Where to Get Store Coupons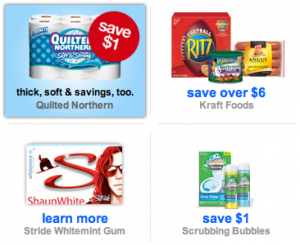 Finding manufacturer coupons is great but sometimes finding a store coupon can be even better. Why? Well, most national stores allow you to stack a manufacturer coupon and a store coupon towards ONE item. And that means even bigger savings for you!
Where to get store coupons?
Store websites: Many stores offer printable store coupons including Target store coupons (Target), CVS store coupons (with the CVS logo next to them), Walgreens store coupons (with the Walgreens logo next to them), Rite Aid store coupons (Rite Aid), BJ's printable store coupons (BJ's Wholesale Club) as well as many others. At the top of every coupon, it states wether it is a "Manufacturer Coupon" or a "Store Coupon".  These store coupons can be combined with manufacturer coupons for sweeter savings!
Sunday Newspaper: This is probably one of the best places to find coupons, but you'll only find a few store coupons here each week, if any. Target often releases store coupons inside SmartSource or Redplum coupon inserts.
Weekly store ads: Make sure to check your weekly ads for store coupons. Some stores release in-ad store coupons every week.
Facebook pages: One of the best places to release new and hot coupons nowadays is through a company or brands Facebook fan page. New coupons are released almost everyday, so you may want to "like" your favorite stores and be sure to follow Coupon Pro on Facebook for the best store coupons released on Facebook.
eCoupons: Stores like Kroger and Safeway offer eCoupons that can be loaded on your card and these most often can be combined with manufacturer coupons. Best of all, you'll save on ink! 😀
Store coupon booklets: This is most often seasonal with many stores releasing coupon booklets with rare and high value store coupons but very few stores like Walgreens release a coupon booklets every month.
Magazines: Various magazines like All You release store coupons but these are quite harder to come across.
Have you seen store coupons anywhere else?