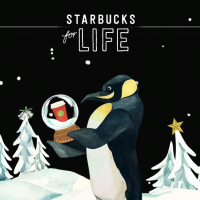 Calling all you Starbucks Rewards members! Now through January 8th, sign in to your account to play this new
Starbucks For Life Instant Win Game for your chance at winning 1 of a whopping 1 MILLION bonus stars (up to 35 stars) prizes towards your free drinks. Plus, 695 will also win FREE Starbucks for a week, month, year, or for LIFE! You can enter without making a purchase (says 2 times per day but I've played 5 times already today) by scrolling all way down and look out for the "To enter without making a purchase, click here." details. Your free bonus stars will arrive via e-mail within 24 hours. Good Luck! 🙂

 Plus, stop by our sweepstakes page for more chances to win BIG prizes!