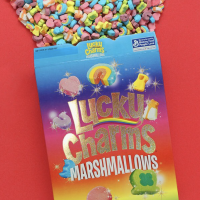 Want to win a rare box of cereal? Now through December 31st, enter this hot new Lucky Charms Marshmallows Only Sweepstakes for your shot at winning 1 of 10,000 FREE Boxes of Lucky Charms Marshmallows ($50 value) – these are very rare and exclusive! Here are the 3 ways you can get a code:
Look for the code inside of your Lucky Charms box.
Hand print your name, address, day and evening phone numbers (if different), email address, and date of birth on a 3″ x 5″ piece of paper and mail it in an envelope with proper postage and the name of prize pool ("National" for a National Prize Pool Product Code or "Retailer" for a Retailer Prize Pool Product Code) which you wish to enter, written on the outside of the envelope, to "Lucky Charms Marshmallow Only Program," c/o HelloWorld, Inc., P.O. Box 5503, Department 830075, Kalamazoo, MI 49003. Limit 1 code request per envelope. Must handwritten and postmarked by 12/17. Go to 4b in the rules for full details!
You can request a free code to win online starting December 18th.
Make sure to enter today, again after June 1st, and finally after October 1st or until you win. Good Luck! 🙂

 Plus, stop by our sweepstakes page for more chances to win BIG prizes!