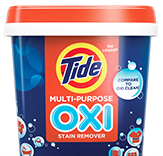 6 FREE Tide Oxi Detergents at Target
HOT DEAL!!! Check out this amazing Target deal starting today 7/13 through 7/19:
Buy 6 Tide Oxi Detergents $10 each
Use 3 – B1G1 FREE Tide Oxi Detergents from 7/6 P&G
PAY = $30
Get back (2) $10 Gift Cards
Submit $10 P&G Rebate
= All six for FREE after coupons, gift cards and rebate!
What a deal! I heard stores are running out fast, so you may want to call ahead. Please note, there is a Target mobile coupon out there but if you use it your total goes under $30 and you won't get the rebate. Some stores may have Tide Oxi for $9.99, so make sure you buy another laundry item stated in the rebate to bring your total over $30 (after coupons and discounts). You can print some Tide coupons here! Stock up! 🙂
Thanks moolasavingmom and Marissa!