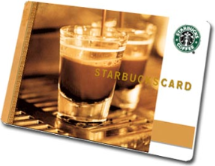 Starbucks: $10 Gift Card Only $5
Don't miss it!!! YAY! Groupon.com is offering a $10 Starbucks eGift Card for ONLY $5. Here's how:
If you're NOT a Groupon member, Register Here then go to step #3.
If you're a Groupon Member, skip to step #3.
Go buy the $10 Starbucks Gift Card for Only $5
Doesn't matter what city.
FINAL COST = $5
I GOT MINE!!! This won't last long, so hurry!
* Must redeem by 12/31/14. Restrictions apply. See offer for details.