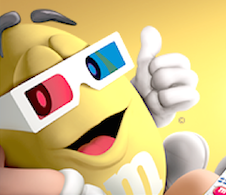 M&M's Movie Sweepstakes (500,000 Winners!)
I've won $30 so far! 🙂 Wanna win free gift card? Through August 10th, text MOVIE to 78787 to enter the M&M's Sweepstakes for your chance to win 1 of 500,000 FREE $6 MasterCard gift cards. After doing so, head over here to enter your code! If you win, just select "$6 Use at a Movie Streaming Service" to redeem for a gift card! You can use your $6 MasterCard to purchase a FREE $6 Starbucks Gift Card or a FREE $6 Amazon Gift Card. Good Luck!
For chances to win, check out more Instant Win Games & Sweepstakes here!
Thanks Angelica!