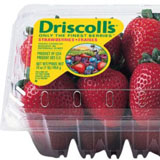 Target: Strawberries Only $0.45!
Yay! Check out this HOT deal on fresh produce at Target through 5/10:
Driscoll's Strawberries $1.50
Use 5% off Fresh Seasonal Berries Target Cartwheel Offer
Plus, stack with a $1/2 Driscoll's Fresh Berries Target Coupon
Plus, triple stack with a $0.50/1 Driscoll's Berries Product (must sign up)
= $.90… or only $.45 each!
Yummy! 🙂