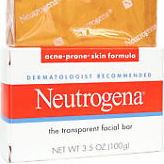 FREE Neutrogena Cleansing Bars & FREE Tote Bag at CVS
Check out this amazing deal being reported at CVS right now with NO coupons needed:
Buy 3 Neutrogena Facial Cleansing Bars (3.5oz; orange or black) $3.29
PAY = $9.87
Get back a $10 ECB
Plus, get a FREE Tote (as shown in ad)
= All for FREE!
* I'm hearing reports that if you buy 5 bars, you get back a $20 ECB!
Please note, not everyone may be able to score the free tote (but still an amazing deal!) AND this deal may be stopped at any time! Prices may vary by location. Hurry, this coupon probably won't last long!
Thanks amysdeals, bayareanewbie and Jodi!