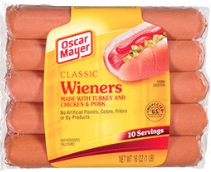 Oscar Mayer Recall 2014
APRIL 20, 2014 – Kraft is recalling a whopping 96,000 pounds of Oscar Mayer Classic Wieners with "Est. 537H" inside the USDA mark of inspection and "USE BY 16 Jun 2014". What's the reason? May contain Classic Cheese Dogs which isn't stated on the label of ingredients. As you may know, the Classic Cheese Dogs is a different product with different ingredients. For full details, go to Oscar Mayer Recall 2014!
How to handle this issue?
If you have any of the products stated, try returning it to your store of purchase or contact Kraft at (855) 688-4386 for more information.
SHARE this post to alert all your family and friends out there!
Thanks Christina!