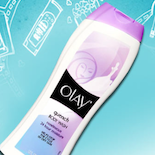 FREE P&G Sampler Box (Olay, Herbal Essences and Prilosec!)
RUN!!! Are you a P&G Everyday member? If so, hurry and login to request your FREE P&G Sampler Box including Olay, Herbal Essences, Prilosec and a FREE Coupon Booklet. Remember, you're able to request samples and coupons from P&G brandSAMPLER only 4 times a year ending March 30, June 30, September 30 and December 31, so you may want to wait if you're looking to see if they add more samples. Allow 6-8 weeks for delivery!

 And don't forget to sign up for FREE Hot Offer Text Alerts so you NEVER miss a hot freebie!