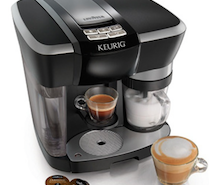 Apply to Host a "Keurig Rivo" House Party
HOT!!! Wanna host a house party for free? For a limited time, apply to host a Keurig House Party for you and your friends. 1,000 lucky entries will be chosen!
Your exclusive FREE Party Pack will contain:
2 Keurig Rivo Cappuccino & Latte Systems
Savings Coupons for Keurig Rivo
Lavazza espresso packs to serve
And more!
Have you ever been chosen to host a House Party? Post your pics and experiences!
What is House Party?
HouseParty.com is a free online community where people connect through hosting parties. As a registered member of House Party you have the opportunity to host a House Party for your friends and family while checking out some kind of new product. Go here for more details!