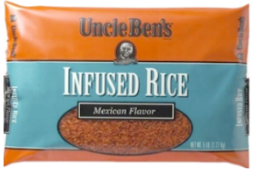 Uncle Ben's Rice Recall 2014
FEBRUARY 10, 2014 – Mars Foodservices US is voluntarily recalling ALL flavors of their Uncle Ben's Infused Rice products, which are only sold in 5 lbs and 25 lbs bags. What's the reason? People are experiencing temporary symptoms of burning, itching rashes, headaches and nausea after eating. For full details, go to Uncle Ben's Rice Recall 2014!
How to get your refund?
If you have any of the products stated, try returning it to your store of purchase or contact Mars Foodservices at 800-432-2331 for more information.
SHARE this post to alert your family and friends!
Thanks Brittany!