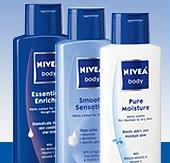 2 FREE Samples of Nivea Lotion *HURRY!*
RUN!!! Hurry over to Facebook to request a 2 FREE Sample of Nivea Lotion (you may un-check email boxes). Allow 6-8 weeks for delivery!

 And don't forget to sign up for FREE Hot Offer Text Alerts so you NEVER miss a hot freebie!