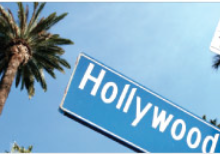 Patty just won a FREE All-Expense Paid Trip to LA + More!
Wow! This is so exciting! Patty has won the grand prize of Dunkin' Donuts Summer Sweepstakes (ended already): An all-expense paid trip to LA to attend any concert of her choice + 3 days and 2 nights at a luxury hotel + $200 spending cash (all worth a whopping $2,000 VALUE!) after entering through my Instant Win Games & Sweepstakes page. Check out what she wrote me:
Hi!  I just wanted to thank you for your posts!  I entered through your link and am one of the grand prize winners of the summer Dunkin Donuts Rocks Sweepstakes!  I'm leaving from Philadelphia to Los Angeles [today]!  I attached the prize notification for you to see.  Sorry there's so many exclamation marks, I'm really excited!  Thank you!!!
This is one of the biggest wins by any Coupon Pro reader ever! I'm so happy for you Patty! Have fun! 😀