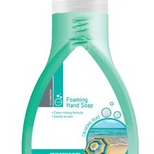 Lowe's: 11-Pack Style Selections Hand Soap Only $2.48 + FREE Pickup!
RUN!!!! Right now, Lowes.com is offering a Style Selections 11-Pack 6oz Calming Sea Scent or Mango Foaming Hand Soap for just $2.48 + FREE Store Pickup! That's makes each bottle ONLY $0.22! I'm not sure if this is a mistake but you guys better hurry! I just ordered mine! 😀
UPDATE: This is a NO GO I've heard. I called my store about my order and they wouldn't honor it. They had to refund me over the phone… Sorry! 🙁
Thanks xdizziliciousx!