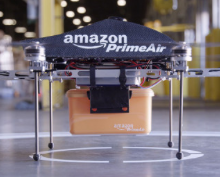 Amazon Prime Air: 30 Minute Package Delivery Soon?!

Did you guys catch 60 minutes last night?! Well Amazon is doing some thing BIG and it's called Amazon Prime Air. It's basically unmanned flying drones that will be able to deliver packages in 30 minutes after customers placing an order. This amazing feature is expected to be rolled out to the public in 2015 or 2016. Check out this video here to see it in action!
What do you guys think?!
Thanks Justin!