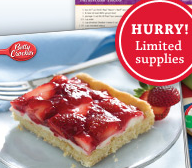 FREE 2014 Betty Crocker  Calendar *HURRY!*
RUN!!!! Calling all Betty Crocker members! Hurry over to request a FREE 2014 Betty Crocker Calendar for the first 10k. If you join today, you WILL NOT receive this freebie but you'll be able to participate in future giveaways. Allow 6-8 weeks for delivery!

 And don't forget to sign up for FREE Hot Offer Text Alerts so you NEVER miss a hot freebie!