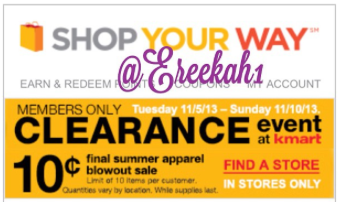 $0.10 Clearance Sale at Kmart
Wowzers! Through 11/10, Kmart is having a summer clearance sale with items for ONLY $0.10…. yes ten pennies. I've been hearing reports that many are finding Sofia Bras, Flirt Bras, Kmart Route 66 Women's Curvy Jeans, swim shorts, tanks, tees, kids clothes and more for only 10 cents too. I'm not sure how much stuff is available but you best hurry if you want the best deals! And don't forget about the super hot Cottonelle deal (scenario in the comments) and yes you must be a Shop Your Way member if you want to snag these in-store only deals. Go go go!
Thanks Erika for pic and Nicole!