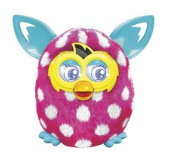 Target: 50% off Furby Boom
Wow! Check out this smokin' hot Target deal through 10/30 and it's not even Black Friday yet:
Furby Boom $47.80 – $59
Use 50% off Furby Boom Target Cartwheel offer
= $23.90
This is probably the most awesome Furby deal I've ever seen! So jump on it ASAP if you want one!