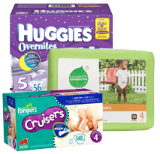 Sign up for Amazon Mom and Get a FREE $25 Diaper Credit
Are you a Mom? Through November 10th, sign up for the Amazon Mom program (new members only) and you'll receive a FREE 3 Month Trial + FREE $25 Diaper Credit. So after you sign up, wait until November 18th then go add a pack of qualifying diapers and your FREE $25 Credit will automatically applied but only starting 11/18 through 12/18 as stated.
Please note this is a free trial, so you'll need to either cancel or keep the offer for $79 payment. You can canel or turn off auto-renewal by simply going to your account, settings, click "Amazon Mom Membership" and cancel by you may want to wait until you get the free $25 credit.
In addition, the benefits of Amazon Mom include three months of FREE Two-Day Shipping with Amazon Prime (PERFECT for the upcoming holidays!), 20% off diapers and wipes, and other promotions for parents.
Thanks Esther!