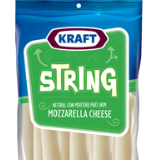 Kraft Cheese Recall 2013
OCTOBER 25, 2013 – Kraft is voluntarily recalling over 735,000 packages of it's Kraft and Polly-O string cheese with "Best When Used By" dates from Oct. 25 through Feb. 11. What's the reason? May spoil and change color before expiration date on the packages. For full details, go to Kraft Cheese Recall 2013!
How to get your refund?
If you have any of the products stated, try returning it to your store of purchase or contact Kraft at 1-800-816-9432 for more information.
SHARE this post to inform your family and friends!
Thanks Chantal and Amy!