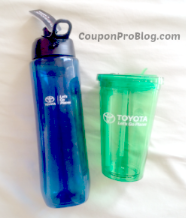 I got my FREE Toyota Tumbler & Thermos Bottle from HSN!!!
Remember the 4 FREE Toyota Tumblers (EXPIRED) offer posted on September 29th? Well I just received them and so did many other readers as shown here…. and probably in record time! I'm hoping my other two are on the way too! So awesome of HSN & Toyota!!! Did you get yours yet?

 And don't forget to sign up for FREE Hot Offer Text Alerts so you NEVER miss a hot freebie!