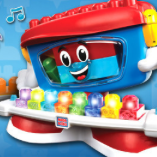 Apply to Host a 'Mega Bloks First Builders' House Party
Wanna host a house party for free? For a limited time, apply to host a Mega Bloks First Builders House Party for you and your friends. 750 lucky entries will be chosen!
Your exclusive FREE Party Pack will contain:
First Builders Big Building Bags by Mega Bloks
Billy Beats Dancing Piano
Mega Bloks First Builders Block Buddies for your guests
Mega Bloks coupons for guests
Have you ever been chosen to host a House Party? Email me with your pics and experiences!
What is House Party?
HouseParty.com is a free online community where people connect through hosting parties. As a registered member of House Party you have the opportunity to host a House Party for your friends and family while checking out some kind of new product. Go here for more details!