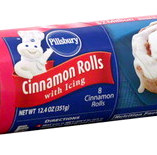 Pillsbury Recall 2013
SEPTEMBER 7, 2013 – General Mills is voluntarily recalling their refrigerated Pillsbury Cinnamon Rolls with Icing with "Better if Used" dates 30OCT2013 and 31OCT2013 for the eight-count single rolls or 18OCT2013, 26OCT2013 and 31OCT2013 for the 2-pack packages. What's the reason? May contain plastic particles. For full details, go to Pillsbury Cinnamon Rolls Recall 2013!
How to get your refund?
If you have any of the products stated, try returning it to your store of purchase or contact General Mills at 1-800-775-4777 for more information.
SHARE this post to inform your family and friends!
Thanks Brian and Brittany!