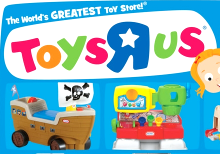 Toys R Us will "Price Match" Competitors Online Prices
YAY! I've got some AWESOME news for ya! Toys R Us (and Babies R Us) has announced they WILL price-match competitor online prices as of 8/21. Check out what it says:
We will match prices from selected online competitor websites,including Walmart.com, Target.com, BestBuy.com, Sears.com, Kmart.com, buybuyBaby.com, Meijer.com, FredMeyer.com, Diapers.com, BabyDepot.com, and Amazon.com (not including marketplace pricing).
Please note that Toys R Us will not price match online prices during the week of Black Friday or Cyber Monday (11/17 -11/25) and online pricing limited to one day or less (such as 6-hour sale). With that being said, it's still such great news because it wlll allow us to save even more during the holidays. For full details, check out Toys R Us Price Match Guarantee 2013!
Thanks PR and Brooke!