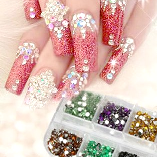 Amazon Roundup: Nail Art Under $2!
Check out these awesome Amazon.com deals on Nail Art (stickers, rhinestones, glitter, gems) all under $2 + free shipping or shipping is included in the price below:
Wanna spend a little more?
All these jewelry items have great reviews!!! You can also check out my Amazon roundup for Necklaces under $1, Earrings under $1, Bracelets under $2, Hair Clips under $2, Rings under $2 and iPhones Cases under $3. Tons of awesome deals!
* Amazon prices may change at any time.
Thanks Eileen for help with list!