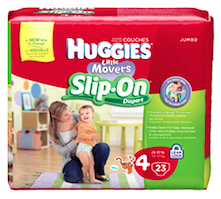 CVS: 3 Jumbo Packs of Huggies Diapers – Only $0.97!
RUN!!! Check out this amazing deal being reported at CVS:
Buy 3 Huggies Diapers or Huggies Pull-Ups Diapers $9.99 each
Use 3 $3/1 Huggies Diapers Coupon (scroll down) (or the $2/1 Huggies Diapers Coupon)
PAY = As low as $20.97
Get back a $20 ECB  The "glitch" has been fixed. Spits out a $10 ECB now!
= $0.97 for all 3!
I'am not sure if it's a glitch or not. It can be STOPPED at anytime, so hurry! This offer will not last long!
Thanks Heidi and Kristen!