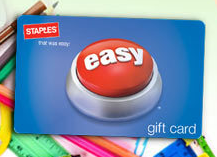 Staples: $40 Gift Card ONLY $25
Wanna save on printer ink?! Hurry over to Groupon.com to score a $40 Staples eGift Card for ONLY $25. Here's how:
If you're NOT a Groupon member, Register Here then go to step #3.
If you're a Groupon Member, skip to step #3.
Go buy the $40 Staples Gift Card for $25
Doesn't matter what city.
FINAL COST = $25
Don't forget to redeem your Staples Gift Card here. This would be perfect for Back to School sales coming up this summer. These won't last long, so hurry!
* Never expires. Valid in-store only. Restrictions apply. See offer for details.