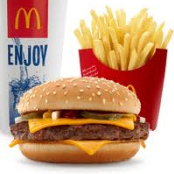 McDonald's: Buy 1 Get 1 FREE Quarter Pounder Burgers! (June 18-20)
Looking for a cheap lunch date?! Starting today June 18th through June 20th, McDonald's locations are selling the new Quarter Pounder Burgers for Buy 1 Get 1 FREE. No coupon necessary! For more info, go here!
Thank Colette and Brandy!