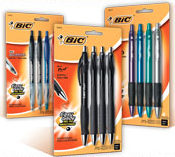 FREE BIC Atlantis Pen Giveaway (100 Winners EVERY Hour!)
Through July 14th, BIC is having a FREE Atlantis Pen Giveaway, a total of 100 pens every hour for 14 hours a day from 8AM – 10PM ET. If you didn't snag one today, don't worry. Keeping trying because they are giving away free pens all month long. And if it doesn't load for you, try a different browser!
For chances to win, check out more Instant Win Games & Sweepstakes here!