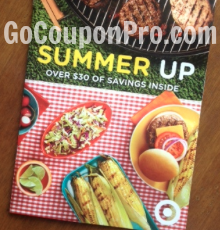 FREE $30 Summer Coupon Booklet at Target
So I stopped by Target earlier this afternoon and I hit the coupon jackpot! Lucky me, they were passing out a FREE 'Sumner Up' Target Coupon Booklet with over $30 of savings right as I walked in. Inside, you'll find coupons for angus beef, mayo, barbecue sauce, beans, lunchmeat, ice cream and so much more! Did you score one yet?
Thanks Karen for the heads up!