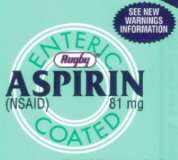 Baby Aspirin Recall 2013
JUNE 28, 2013 – Advance Pharmaceutical Inc. is voluntarly recalling the over-the-counter drug product, Rugby label Enteric Coated Aspirin Tablets, 81 mg, Lot 13A02. What's the reason? May contain a totally different drug inside. For full details, go to Baby Aspirin Recall 2013!
How to get your refund?
If you have any of the products stated, try returning it to your store of purchase or contact Rugby Laboratories at  800-645-2158 for more information.
SHARE this post to inform your family and friends!
Thanks Erika for the heads up!