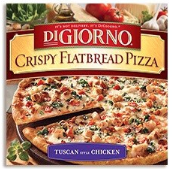 Nestle Pizza Recall 2013
MAY 2, 2013 – Nestle has issued a recall on four types of pizza by DiGiorno (Crispy Flatbread Pizza Tuscan Style Chicken and Pizzeria! Bianca/White Pizza) and CPK brands (Crispy Thin Crust White and Grilled Chicken with Cabernet Sauce). What's the reason? May contain fragments of clear plastic. As you may know DiGiorno has been releasing lots of coupons lately, so if you bought a box of pizza, check your freezers. For full details, go to Nestle Pizza Recall 2013!
How to get your refund?
If you have any of the products stated, try returning it to your store of purchase or contact Nestle at 800-456-4394 for more information.
SHARE this post to inform your family and friends!
Thanks Katie and Alissa!