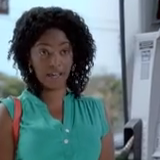 Kmart 'Big Gas Savings' Commercial… LOL!
Have you guys seen this? Kmart is at it again releasing another hilarious commercial (remember the Ship My Pants Commercial) for the very few of us that still shop there. The whole idea behind the commercial is to promote their Shop Your Way Rewards membership which can help you save on gas… or so they say! It's funny when you think of the word that could replace "Gas" but nothing compares to the Ship My Pants commercial, I'd say. Check out their new Big Gas Savings Commercial here!
Thoughts? Did you enjoy it?
Thanks Emelda!