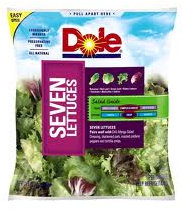 DOLE Salads Taste of Spain House Party (Apply Now!)
Wanna host a house party? For a limited time, apply to host a DOLE Salads Taste of Spain House Party for you and your friends this summer.
Your exclusive FREE Party Pack will contain:
(8) Coupons for FREE DOLE Salad Blends & Kits
(1) Flamenco-style apron
(1) Tapas: Delicious Little Dishes from Spain cookbook
(13) Taste of Spain Game pieces with unique code to play online for your chance to win a $40K trip for 2 to Spain, including a coupon for $1.00 off any TWO Distinctively DOLE Salad Kits
(13) DOLE Salad recipe fans
(13) Flamenco-style rose hair clips
Have you ever been chosen to host a House Party? Email me with your pics and experiences!
What is House Party?
HouseParty.com is a free online community where people connect through hosting parties. As a registered member of House Party you have the opportunity to host a House Party for your friends and family while checking out some kind of new product. More details here!
How it works?
Simply sign up, set up, build up, party up and talk it up. More details here!

Wanna join for FREE?
Just go here and enter your email address and follow the simple instructions.