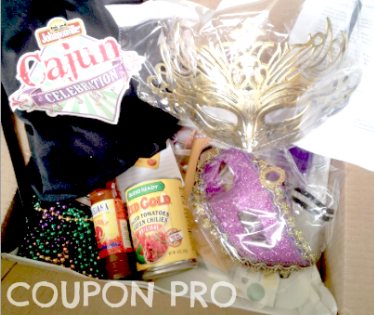 Yay! FREE Johnsonville Cajun Celebration Party Kits Are Arriving!

Wahoo! Remember the FREE Johnsonville Cajun Celebration Party Kit (EXPIRED) offer I posted about on March 13th? Well LOTS of readers including Ashleigh are already receiving their AWESOME party kit. Here's what some readers are saying:
Hey!! Just wanted to say thanks for always being so prompt in the freebies you post! It's awesome!! And since you let me know about the Johnsonville Cajun Celebration kit..I just wanted to let you know I finally got one!! Thanks again! – Ashleigh
JOHNSONVILLE CAJUN CELEBRATION PACK! – I actually received the email like everyone else saying I would not get one, so keep eyes open this week for UPS! – Brittany
My Johnsonville package. Lots of good freebies in this! – Marquisha
I received my Johnsonville Mardi Gras Cajun kit from Fedex today!! I'm so excited!! I got 3 different masks, beads, an apron, awesome recipes, awesome coupons and a bottle of hot sauce!! YAY! Thank you Coupon Pro!! – Janetta 
Probably one of the best freebies this year, ya think? Check out more fan freebie pictures here! And for more freebies, check out my freebies page here!
Did you get your free kit yet? Let us know!
Thanks Ashleigh for pic and all you other readers!