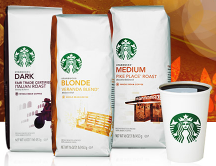 Starbucks Cutting Grocery Coffee Prices by 10%
Great news! Starting May 10th, that package of Starbucks Coffee at your local grocery store is going to cost you a little less. The coffee chain is slashing prices by 10%…. a 12 oz bag generally costs $9.99 but it will now cost $8.99 per bag. You'll also see a similar 13% discount for Starbucks-owned Seattl'es Best brand coffee too. They are hoping to give customers a better value and get them to buy more coffee, more often!
Thoughts? Will you buy more bagged coffee now?
Thanks bloomberg and Ariel!