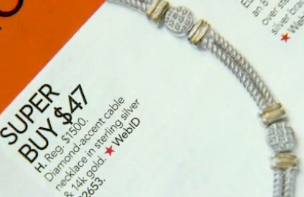 Macy's Catalog Typo Prices $1,500 Necklace for Only $47
This is no April Fools joke!
So it looks like Macy's sent out a catalog last month with a smokin' hot deal: A $1,500 diamond-accent cable necklace in sterling silver and 14k gold for only $47… That's a massive 97% savings! Well, it was a MISTAKE. We're hearing that these necklaces were flying off the shelves but this story didn't come out until one ticked off customer went to the news after his $47 backorder of this $1,500 necklace was cancelled. Check out the $47 NECKLACE (price has been corrected) here!
Thoughts? Would you buy it?
Thanks WFAA for pic and Gail!