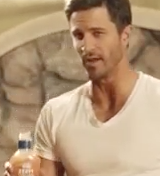 Kraft Zesty Guy Commercial…. Woah!
Have you guys seen this? So it looks like Kraft is getting a little sexy because they just released a steamy new commercial featuring a good looking guy who eventually ends up with no t-shirt on. It's been 2 days and it already has over half a million views. Check out the Kraft Zesty Guy Commercial here!
Thoughts? Did you enjoy it?