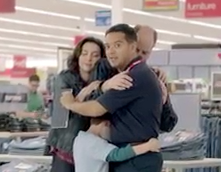 Kmart 'Ship My Pants' Commercial… SO FUNNY!
Have you guys seen this? Kmart just released a new commercial and it's HILARIOUS! The whole idea behind the commercial is if you can't find what you're looking for in store, a sales associate can find it on Kmart.com and ship it to you for free. Not sure what's more awesome… free shipping or their funny commercial promoting it. It's been 2 days and it already has nearly half a million views. Check out the Ship My Pants Commercial here!
Thoughts? Did you enjoy it?
Thanks Kourtney!