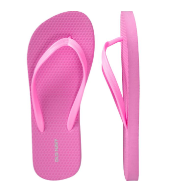 JCPenney: $1 Flip Flops on April 12th + More!
Woohoo! As announced on Twitter, it looks like JCPenney will be offering $1 Flip Flops for the whole family on Friday, April 12th. I'm hearing reports that the limit is 5 per person. I suggest calling your local store to confirm. While supplies last. We'll post a reminder on Friday! 🙂
Plus, it looks like they're bringing back coupons. Here's a rare 20% off JCPenney Coupon valid through 4/17. Happy Shopping! 😀
Thanks Katie!