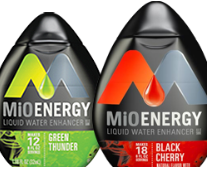 FREE Mio Energy at 7-Eleven on April 23
Do you have a 7-Eleven near you? If so, drop by to score a FREE Mio Energy Water Enhancer on Tuesday, April 23rd, 2013. You may to call ahead since this is for participating locations. No coupon or purchase necessary! For more info and locations, go to FREE Mio at 7-Eleven!
Thanks Brooke, Porsha and Jennifer!