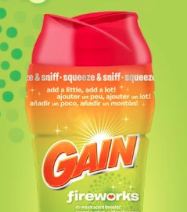 FREE Gain Fireworks Sample – Coming Soon!
Yay! Check out what Gain posted on their Facebook page yesterday:
"Our new Original scent Fireworks boost the scent of your detergent for up 12 weeks & we want to give you 12 chances at a free sample – Stay tuned!"

 And don't forget to sign up for FREE Hot Offer Text Alerts so you NEVER miss a hot freebie. Text alerts community will be the FIRST to find out when it goes live!
Thanks Grace and Maria!