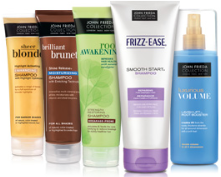 FREE John Frieda Product Coupon – HURRY!
Hurry over to score a FREE John Frieda Product Coupon when you use one of the following UPC codes:
7G Sheer Blonde Dark Golden Blonde 717226161940

8N Sheer Blonde Medium Natural Blonde 717226161933

4BG Brilliant Brunette Dark Chocolate Brown 717226162039
4R Radiant Red Dark Red Brown 717226162022
5B Brilliant Brunette Medium Chocolate Brown 717226161995
5G Brilliant Brunette Medium Golden Brown 717226162008

 And don't forget to sign up for FREE Hot Offer Text Alerts so you NEVER miss a hot freebie!
Thanks Jessica2012!