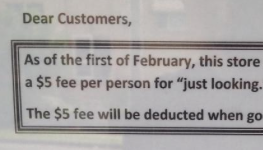 Store Charges Customers $5 Fee for "Just Looking"
At first, I thought this was a really early April fools joke!
So basically a store in Australia is sick and tried of customers coming in their store without buying anything. So they want to charge customers a $5 fee… for "just looking". The good news out this whole story is you'll get your money back if you buy something. Check out the FULL SIGN here!
Thoughts? Would you pay $5 to go inside?
Thanks reddit for pic and Micah!