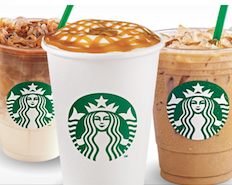 FREE Hazelnut or Carmel Macchiato at Starbucks
Yay! Now through March 31st, 2013, head over to a participating Starbucks location to score a FREE Hazelnut Macchiato when you simply ask for a small size. This is a new drink that just came out today. You might be able to find flyers for this free drink at your local Starbucks but many people have been able to get a free one just by asking. I suggest you call ahead if you gotta drive a distance to grab this freebie. There are no official details about this freebie, but for details about the new drink, check out Starbucks Drinks!
Speaking of Starbucks, the FREE $5 Starbucks Gift Card offer is still available!
Thanks Sam!