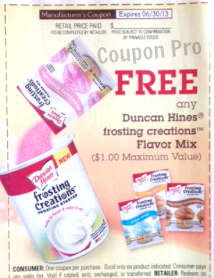 Did you get a FREE Duncan Hines Coupon in Your Sunday Paper?
Happy St. Patrick's Day! If you picked up today's Sunday paper (3/17), you may find a coupon for a FREE Duncan Hines Frosting Creations Flavor Mix ($1.00 Value!) inside the Smart Source insert. Coupon expires 6/30/13. The image above is not a printable coupon. Did you get this coupon too?
Thanks Sandy for pic!