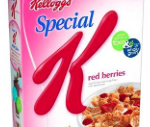 Special K Cereal Recall 2013
FEBRUARY 20, 2013 – Kellogg's is issuing a voluntary recall for their Special K Red Berries cereal. What's the reason? May contain fragments of glass. For full details, go to Special K Cereal Recall 2013!
How to get your refund?
If you have any of the products stated, contact Kellogg's at 1-800-962-1413 for more information and to get your replacement coupon.
SHARE this post to inform your family and friends!
Thanks Jessica!