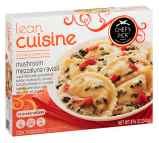 Lean Cuisine Recall 2013
FEBRUARY 8, 2013 – Nestle is issuing voluntary recall on Lean Cuisine Culinary Collection Mushroom Mezzaluna Ravioli with UPC 13800-58358, production codes are 2311587812 and 2312587812 and the "best before date" appears as DEC 2013.. What's the reason? Possible fragments of glass. For full details, go to Lean Cuisine Recall 2013!
How to get your refund?
If you have any of the products stated, contact Nestle at (866) 586-9424 for more information and to get your replacement coupon
SHARE this post to inform your family and friends!
Thanks Chrissy!