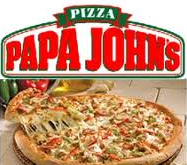 FREE Papa John's Pizza Code – Check Your Emails!
Remember the Papa John's Super Bowl Coin Toss (expired now) post? We all know the Super Bowl coin toss turned out to be heads, so if you made the right call… check your emails now! I just received my coupon code for a FREE 1-Large Topping Pizza from email specials@papajohns-specials.com with the subject You Made the Right Coin Toss Call! Here's Your Code for Free Papa John's Pizza! Code expires 3/10/13. Ordering now….. 😉
Thanks Andrea and all you readers who emailed me!